Election Day is Tuesday, November 8, 2022.
There are more ways than ever to vote. You can vote by mail, in person before Election Day, or in person on Election Day. Choose how you're going to vote, plan a time to vote, and know what you need. Find your polling location!
Scroll down and expand the menus at the bottom of this page to learn more and get ready to vote.
---
REGISTER TO VOTE
It's too late to register to vote on November 8, but you can still go ahead and register now so you're prepared to vote in the 2023 primary election. Register to vote online here or by contacting your county clerk. Review your registration information here and update your registration here.
VOTE IN PERSON
You can vote in person on Election Day, Tuesday, November 8. Polls are open from 6AM to 6PM local time. Anyone in line by 6PM can vote. Find your polling location here. Open the menus below to read about voter ID requirements, know your rights, and more.
View a sample ballot and see where to vote in person
VOTE BY MAIL / ABSENTEE BALLOT
Mail-in/absentee ballots must be received by election officials by 6PM local time, Tuesday, November 8,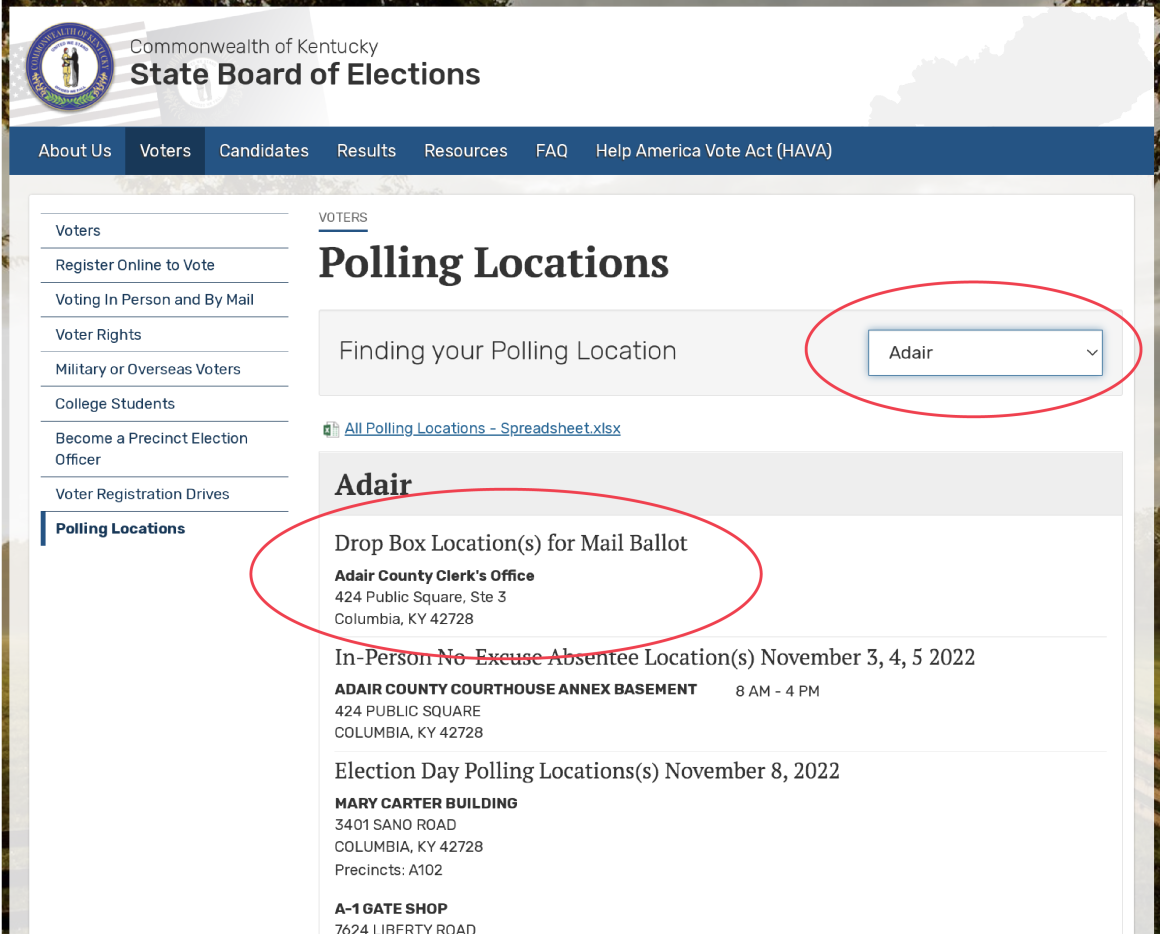 2022.
 You should return your ballot to a ballot drop box to guarantee it is received on time. You cannot take a mail-in ballot to a polling place.
Find a ballot drop box here. (See photo at right.) Click on the drop down menu and select your county. Look at the list of locations and find where you can return a mail-in ballot.
Track your mail-in ballot here.
---
JUDICIAL ELECTION GUIDE
Judicial races will be on your ballot. Check our judicial election guide to learn about what these judges do and see responses from the candidates running for office. 
RECLAIM YOUR RIGHT TO VOTE
Roughly 175,000 Kentuckians with a past felony conviction are eligible to vote! Reclaim your right to vote and make your voice heard. Learn more here.
---
Questions or problems with registering, requesting a ballot, or voting?
(or dial 866-687-8683)